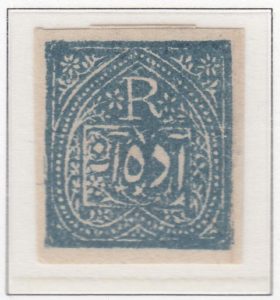 Population: 282,003 (1901)
Jind was a princely state in the north Punjab (presently part of Punjab & Haryana State). The first stamps were issued in 1874 during the reign of Raja Raghubir Singh, who ruled from 1864 to 1887. The stamps became obsolete in 1885
when Jind became a Convention State.
The stamps were issued on thin wove paper. They were lithographed, imperforate, and mainly without gum. The first issues consist of five values from ½a to 8a. The ½ anna consists of two major varieties.  There are important color varieties in the 2a and 8a.
Click here to see all stamps from Jind in this exhibition.
History
Founded in 1763, the princely state of Jind paid tribute to the Scindhia dynasty of the Maratha empire. The ruler of Jind, Raja Bagh Singh, chose to side with the British, rather than the Marathas, during the Second Maratha War (1803-5).  After the Marathas were defeated, Bagh Singh was amply rewarded with territory and the resulting state became a British protectorate. A treaty was signed with the British East India company in 1809.  It acceded peacefully to India in 1948.
The royal house of Jind belongs to the Phulkian family. They suffered both from ill health, and from the intrigues all too common in royal courts. After helping assure British victory, Raja Bagh Singh suffered from a debilitating stroke, and appointed his wife as regent.  With the ruler incapacitated, various court intrigues resulted, involving murder, and fleeing into exile.  Finally, the British intervened and arrested Bagh Singh's youngest son, enabling the rightful heir to assume the title of regent, and then the throne.  Again, a woman assumed the regency. Another death put the son of a younger wife on the throne.  Unfortunately, her son proved to be a spendthrift who injured state finances.
With the death of that ruler, a distant cousin of the royal house was chosen.  This ruler, Raja Swarup Singh (1864-1887) had a particularly enlightened reign, outlawing – and enforcing the bans – on sati (widow burning), slavery, and female infanticide. A staunch ally of the British, he fought, wearing armor and chain mail, in the Sikh wars and the Indian Mutiny.
Ranbir Singh, who ruled for 60 years, (1887-1948) married five times, once to the daughter of a Romanian barber.  He continued the reforms of his predecessors, dying soon after signing the articles of accession to India in 1947.
Jind


1874