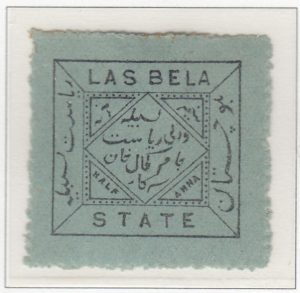 Population: 56,109 (in 1901)
Las Bela was a Princely State in the Balochistan District.  It was one of two princely states issuing postage stamps that later became part of Pakistan. The first stamps were issued in 1897-1900 during the reign of Mir Kamal Khan who ruled between 1896 and 1921. The stamps of Las Bela have been obsolete since April 1, 1907.
The first stamp (½ a) was issued on thick paper, black on white, was lithographed and perforated 11½. Subsequently, additional, ½ a stamps were issued on slightly differently colored paper. In 1898 on greyish blue; in 1899 on greenish grey and thin white surfaced paper; and in 1900 on slate.
Click here to see all stamps from Las Bela in this exhibition.
History
With princes known by the title of "Jam," the State of Las Bela was founded by Jam Ali Khan in 1742 and ruled by his descendants until it joined Pakistan.  The name "Las Bela" meant "jungle on a plain," indicative of the hot climate.
The history of Las Bela is bound up with the larger state of Kalat, which was officially an overlord state. Kalat, ruled by the Khan of Kalat, held vassal, or at least subsidiary status, at various times with the Persian and Afghan empires. The British arrived relatively late to this dusty corner of current-day Pakistan.  With a port, as well as a sea location that links the Red Sea, Persian Gulf, and Arabian Sea, and considerable natural resources, Kalat held strategic importance.  Treaties were concluded in 1854 and 1876, which, if limiting the power of Kalat, protected it from internal and external strife. The Khan of Kalat has the distinction of being one of the few rulers, if not the only, who asked for status as a vassal princely state, rather than as an independent monarch.
Las Bela, though technically a vassal state to Kalat, concluded direct treaties with the British. The Jam was bound to conduct his government with the advice of the British Government, as personified by an agent in Kalat. The British held some powers over internal affairs, with, for example, all death sentences having to be approved by British authorities. This was important, since tribal issues, such as blood feuds, were common.
In 1947, with independence, the territory and dominant Muslim religion of Las Bela clearly fell into Pakistan, but problems arose. The Jam of Las Bela was willing to accede, however, issues remained with Kalat.  And, in fact, Pakistani troops were ordered to move into costal areas of Kalat on March 26, 1948. The next day Kalat capitulated and joined Pakistan. Las Bela joined Pakistan gradually, at first becoming part of the Baluchistan States Union, but keeping internal autonomy.  It is now part of the province of Baluchistan.  However, resentment continues to this day in Baluchistan, which has been plagued by violent protests against Pakistani rule.
Las Bela


1897-1898