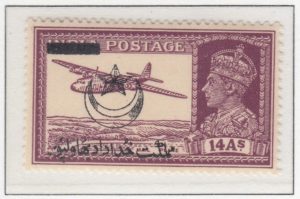 Population 650,042 (1891)
Bahawalpur was a princely state to the east of the Punjab in India.  Nawab Sadiq Muhammad Kahn Abbasi V ruled over the state from 1907 through 1947.  The first postage stamps of the state were issued during its brief period of independence: August 15 through October 5, 1947.  When the Amir acceded to Pakistan, these stamps were withdrawn.
The stamps are overprinted copies of the Raj King George VI stamps of India.  The overprints were typeset in either red or black.  After these stamps were withdrawn, the state, as a part of Pakistan, continued to issue stamps for internal use until 1953.
Click here to see all stamps from Bahawalpur in this exhibition.
History
Bahawalpur was the largest Indian princely state with both a Muslim majority and a Muslim ruler. It has been said that "[Bahawalpur State's] history is the history of the Islamic faith in India."*
The state of Bahawalpur existed from 1802 to 1955, although it acceded to Pakistan in 1947, and was an independent entity within Pakistan until 1955.  In 1955, it became part of the province of West Pakistan.
A weakening of the Durrani (Afghan) empire created an opportunity for the Mohammad Bahawal Khan, of the Abbasi Muslim dynasty, to establish Bahawalpur in 1802.  The Abbassi claimed to be descended from an uncle of Mohammed who lived from 566-653.
A series of wars in the very early 1800s, between Britain and the dominant indigenous powers, resulted in the increasing independence of Bahawalpur from both Sikh and Maratha rule. With British influence serving to protect Bahawalpur from local powers, it is not surprising that, in 1833, the Nawab signed a treaty with the British East India Company. This treaty declared Bahawalpur a princely state with internal autonomy. Traffic was opened on the important Indus and Sutlej rivers. Between 1847 and 1880, the Nawab of Bahawalpur assisted the British in several wars, and was rewarded with territory, as well as a pension.
Unfortunately, succession disputes arose in the 1860s, resulting in warfare between brothers, local uprisings, suspected poisoning of a Nawab, and, in 1866, the succession of a four-year-old Nawab.  The British assumed rule until the successor reached his majority.  He ruled until 1899.
The final Nawab, Sadiq Muhammad Khan Bahawalpur Abbasi (Muhammad V), proved to be an able ruler, who fought in the Indian army for the British and made many civic improvements, particularly in building schools and extending free public education.  He also built an irrigation system. A story is told that he personally fed victims of an earthquake in a neighboring region as the victims' train stopped in Bahawalpur.
In 1947, when India and Pakistan were established, Bahawalpur was courted by both, as it was prosperous and contained more land than Belgium. However, the majority Muslim population, as well as Mohammad's friendship with Jinnah, founder of Pakistan, made Bahawalpur the first princely state to accede to Pakistan.
Muhammed V's public service during the early days of Pakistan is legendary. He established a fund for Muslims fleeing India. After receiving an award from the British for assistance in World War II, he gave 70 million rupees to the Pakistani government; and, for a period, paid the salaries of Pakistani government departments out of the Bahawalpur treasury. He donated property and helped develop Pakistani educational institutions.  With incorporation into Pakistan, he changed his title from Nawab to Amir.
A well-known philatelic enthusiast, Muhammad V lobbied Britain for permission to issue stamps, but it was never granted.  Later (1947-55) when he issued stamps as a state within Pakistan, he designed some himself.  These commemorative stamps highlighted the history of Bahawalpur. They feature Muslim and Abbasid motifs, such as mosques, martial, and ruler images. Medals and coins make mention of "the Prophet who is the servant of God."
Although today, Muhammad V's grandson holds the title of Nawab, it carries no administrative power.
*(Shah, 1959 quoted in K. Robbins, 2008, 12, Mitteilungen Der Gesellschaft Für Indo-Asiatische Kunst, Berlin, 2008, pp. 38-49)
Bahalwapur
Pakistan
1947