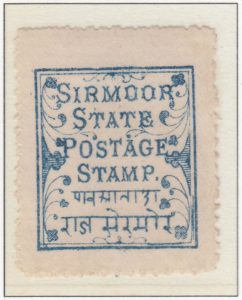 Population: 135,626 (in 1901)
Sirmoor (also spelled Sirmur) was a princely state in the Punjab District and is presently part of Himachal Pradesh. The first issues were released in 1878 and 1880 during the reign of Raja Shamsher Prakash, who ruled from 1856-1898.
The stamps were two 1p; one in 1878 on white wove paper; and the other in 1880 in blue on laid paper. They were lithographed, with gum, and perforated 11 ½.
Click here to see all stamps from Sirmoor in this exhibition.
History
Sirmoor, located in the Punjab, was predominant among the Punjab Hill States. It is also called Nahan, after its main city.  Its history begins in 1616.  Founded by Karm Parkash, his son was able to expand the territory in service to the Mughals. Strong, warlike rulers succeeded to the throne.  However, in 1793 a weak ruler, Karam Parkash II, inspired his brother to try to seize the throne. The beleaguered Raja appealed to Nepalese Gurkhas, who expelled the rebels, but then refused to leave themselves. Instead, they simply annexed the lands of Sirmoor and sent the ruler into exile.
But when the British and Nepalese then fought, Karam's strong, second wife, Guleri Raniji Sabiah, invoked the aid of the British against the Gurkhas. The throne was restored – but to Karam's six-year-old son, not him. The mother of the new ruler,was appointed regent.
A series of changes followed, but the throne was stabilized in 1833, with a payment to the British.  In the next numbers of years, the Raja aided by the British, modernized the state, initiating transportation, industry, medical facilities, a post, a telegraph, and abolishing forced labor (begar). All this added to the revenues of the state. The princes who succeeded to the throne were able and dedicated, resulting in a prosperous state.
Although small, most of its Rajas ruled conscientiously, and loyally supported the British during wartime.  Sirmoor soldiers were famous, particularly their miners and sappers, who aided in sieges.  The distinguished Sirmoor Rifles became the Prince of Wales (and then king's) own Gurkha Regiment. This regiment gathered honors and praise over the course of more than a century.
I have never seen more steadiness or bravery exhibited in my life.  Run they would not and of death they seemed to have no fear, though their comrades were falling thick around them, for we were so near that every shot told.
Ensign John Shipp describing the Battle of Makwanpur, 1816
To serve with a Gurkha soldier under the British Crown was, and is, a rare privilege which nobody who has shared it can ever forget.
Colonel B R Mullalay, "Bugle and Kukri, 1957
The state merged peacefully into India in 1948.
Sirmoor


1878-1880