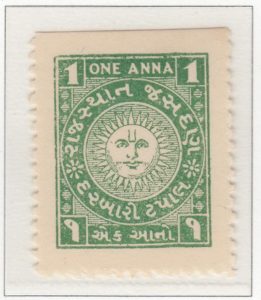 Population 25,727 (in 1901)
Jasdan was a Princely state in the Kathiawar Agency in Western India (presently in Gujarat state). Jasdan was the smallest state in British India issuing its own postage stamps. It issued six stamps between 1942 and 1947 during the reign of Darbar Shri Ala Vajsur Khachar who ruled between 1919 and 1973.
All six of the stamps were 1 Anna in green; perforate on two, three or four sides; typographed and issued in booklet panes.
Click here to see all stamps from Jasdan in this exhibition.
History
The small state of Jasdan was founded in 1665. It came under British protection in 1807, by treaty with the East India Company.  It has been ruled by the Kathi Kshatriya dynasty and is largely Hindu.  The state acceded peacefully to India in 1947.
One former prince has, however, remained active in the welfare of Indian animals.  The Gir cow, a subspecies of the Zebu, sacred to Hindus, is on the verge of extinction as a purebred, perhaps as the result of a preference for high-fat buffalo milk in the population. Satyajit Khachar, a member of the Jasdan royal family, has dedicated his life to saving the Gir breed, organizing, for example, contests for animal husbandry in the area.  This gentle cow has a very high yield of milk, and a program is now in place with Brazilian partners to export the breed to Latin America.  He is also involved with the pure breeding of the Kathiawadi horse, associated with the Kathi people of this area.
Jasdan


1942-1947