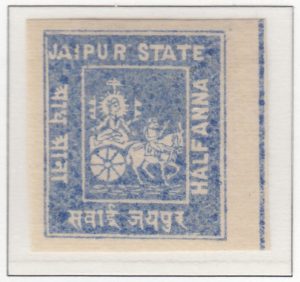 Population Jaipur State: 2,658,666 (in 1901); Population Jaipur City: 160,167 (in 1901)
Jaipur was a Princely State in the Jaipur Residency of the Rajputana Agency (presently part of Rajasthan). The first stamps were issued in 1904 during the reign of Maharajadhiraja (a title meaning "king of kings") Sawai Madho Singh II, who ruled from 1880 to 1922.
The stamps were locally lithographed on white wove paper. They were issued with gum and pin perforated 14. Recently, there has been discussion on the identity of the first issues. This has resulted in changes in the Stanley Gibbons catalogue.
Click here to see all stamps from Jaipur in this exhibition.
History
The history of Jaipur dates back to 1093, when it was known as the Amber Kingdom.  Allying themselves with the Mughals for several centuries, the Amber dynasty prospered and gained prominence. However, when the Mughal empire began to disintegrate, Jaipur became unstable and subject to bruising internal power struggles, revolting provinces, and bloody wars.
Defeated by the Marathas in the Battle of Patan in 1790, Jaipur sought the protection of the British. A treaty was signed in 1803, but because of the interests of the many religious sects, renegotiated in 1818. Jaipur became a British protectorate and chose to support Britain in the British Mutiny of 1857.
The ruler who issued stamps, Sawai Madho Singh II, was adopted.  He was an enlightened prince, whose many reforms were centered in education, sanitation, and building projects. However, this very superstitious Maharajah had been warned by a sage not to have legitimate heirs by his five wives. Of his 65 children, not one could inherit the throne, because they were all mothered by concubines, rather than wives. Thus, he adopted Man Singh (Jai) shortly before his death.
Man Singh (Jai), last ruler of Jaipur, who came to the throne in 1922, exemplifies the dual pulls of traditional India and the modernizing influences of the west. Son of a minor chieftain, he was thrust into prominence at the age of ten.  At thirteen he married a twenty-seven-year-old; eight years later, he married her niece, who was at the time, thirteen. Educated in England, and becoming a skilled polo player, he was also an enlightened and modernizing ruler.
His third marriage was to the westernized, famous beauty, Ayesha, herself a princess of Cooch Behar. The three wives became fast friends, although Ayesha did not long live in purdah like the first two.
Jai served in World War II for the British.  Afterwards, Ayesha and Jai were part of an international jet set, hobnobbing with the likes of the Kennedys.  Jai and Ayesha welcomed Indian independence. Jai served his new country as ambassador to Spain.  He died as the result of a polo accident, at 47. Ayesha, politically active and charitable, opposed the ruling Congress Party, and was imprisoned by the Indian government, probably on trumped-up charges.
Modern day Jaipur is known as one of the world's most beautiful cities.  In fact, it was the world's first planned city, built in 1726-30 to replace Amer, because of water shortage.  Its city plan was based on two important sets of principles of Hindu philosophy. The city was partitioned into nine parts, two for public buildings and seven for private use.  Large ramparts were constructed, as were seven fortified gates.  Even today, Jaipur is known for its symmetry, boulevards, and perpendicular streets. In 1876, when the Prince of Wales visited, the city was painted, at great expense, in pink. The color was legislated in 1877, and the law remains in effect.
Jaipur


1904