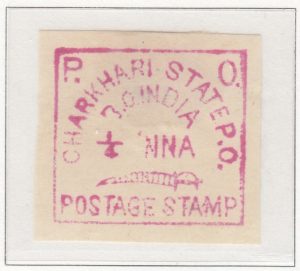 Population: 123,594 (in 1901)
Charkhari was a Princely state in the Bundelkhand Agency in central India (presently part of the Indian State of Utter Pradesh).  Maharajadhiraj Malkhan Singh Ju Deb, who ruled from 1880 – 1908, issued the first stamps in 1894.
The stamps were typographed on white wove paper without gum. The four issues of the first set were issued from a single die.
Click here to see all stamps from Charkhari in this exhibition.
History
This state was founded in 1765 by a Rajput, Raja Khuman Singh (ruled 1765-1782), who was granted the land as the result of a dispute. His father had divided lands among several sons, but one brother seized territory, forcing Khuman to flee. Eventually, a settlement was reached, and Khuman Singh received the lands of Charkhari.
Khuman's son, Raja Vijay Bahadur Singh (ruled 1782-1829), signed treaties with the British in 1804 and 1811, making Charkhari a protectorate of the East India Company. It was the first state in this region to come under British rule and was amply rewarded. This raja was, however, engaged in many disputes and was eventually driven from his throne.
The hereditary rulership continued in loyal British service for over a century.  Maharaja status, rather than raja status, was granted to it rulers by the British in 1860. The state also received honors and a monetary award for siding with the British during the 1857 mutiny.
Charkhari acceded to India upon independence.  The city of Charkhari is now located in the state of Hamirpur district of Uttar Pradesh. As of 2011, the population was about 83,000, overwhelmingly Hindu, and three-quarters rural. The present honorary Maharajah is Jayant Singh Judeo, and a close female relative is the mayor of Charkhari.  The Maharajah lives in the hereditary castle built by his ancestors over a century ago.
Charkhari


1894