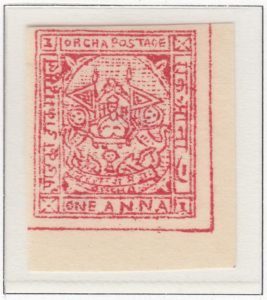 Population: 321,634 (in 1901)
Orchha was a Princely State within the Bundelkhand Agency, a part of the Central Indian Agency. It is presently in the State of Madhya Pradesh. The first issue originated in 1913 during the reign of Maharaja Pratap Singh, who ruled from 1874-1930.
This issue consisted of two stamps: a ½ a and a 1 a. They were lithographed on wove paper, without gum, and imperforate. The stamps of the state became obsolete in 1950 when Orchha was merged into the Union of India.
Click here to see all stamps from Orchha in this exhibition.
History
Founded in 1501, Orchha became a tributary state of the Mughal empire in the 1500s.  The 1600s were a period of great public building projects. Rebelling against their Mughal overlords in that century, Orchha was defeated and occupied. However, at the breakup of the Mughal empire, Orchha, alone of the states in the area, was not entirely occupied by the Marathas.
A treaty was concluded with the British in 1812.  Thereafter, there were several adoptions to assure rulership, as several times no legitimate heir was produced.  One of these was contested, in 1842, with the rights of the adoptee being decided, positively, by the British.
Orchha has three beautiful palaces, which have never been modified.  One, dating from the 1500s, is on a citadel above a river, a fusion of Indian and Muslim architecture during the period of Mughal domination. The Bundela kings of Orchha were staunch Hindus, so the palace rooms were oriented according to religious philosophy of lines of energy, or lines of shakti. It is said that one king was such a devout Hindu that he was killed trying to save a sacred cow from a tiger. Unfortunately, the rulers of Orchha later murdered a chieftain under Mughal protection.  The Mughals destroyed the citadel, and today it is a magnificent ruin.
Orchha merged into India in 1950.
Orchha


1913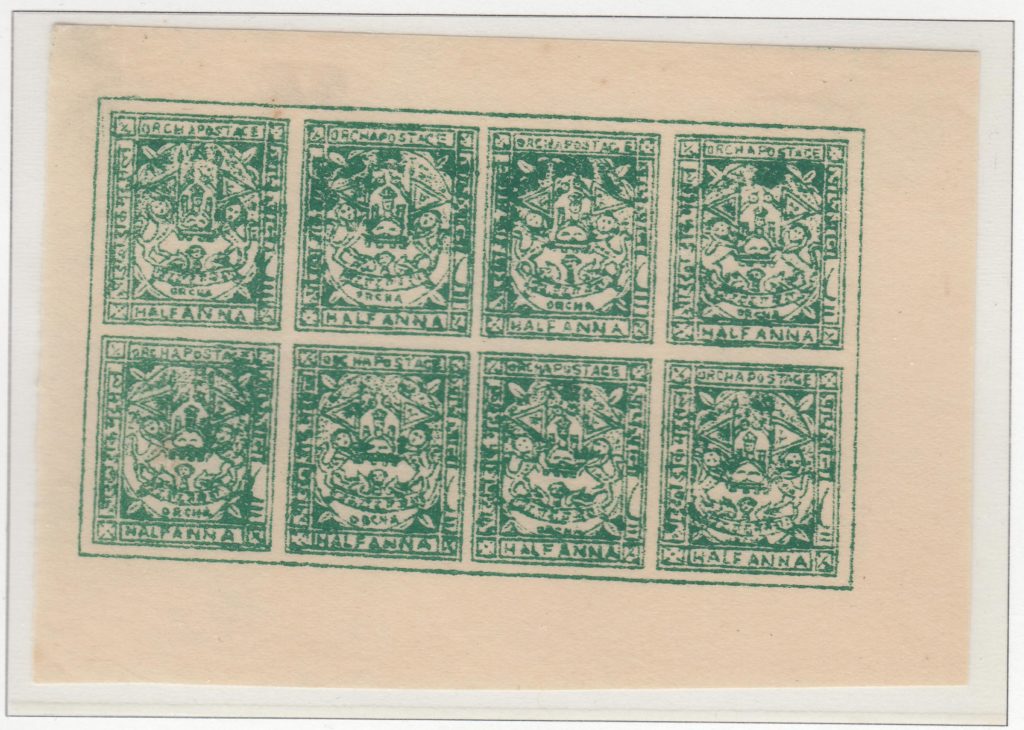 Orchha


1914-1917