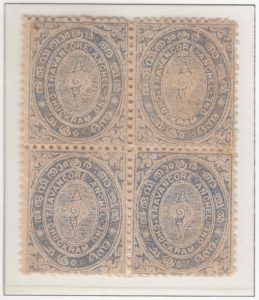 Population: 6,070,000 (in 1941)
Travancore was a Princely State in the Madras Agency.  On July 1st, 1949, Travancore was merged with Cochin, presently the state is part of the state of Kerala.
The first stamps of Travancore were issued in 1888 during the reign of Rama Varma VI, who ruled from 1885 to 1924. The first issue consisted of three stamps. They were gummed on laid paper, typographed and perforate 12.
On July 1st, 1949, stamps of Travancore were overprinted with Pies and Anna(s). Stamps of Cochin were also overprinted at this time. These stamps were valid for mail destinations in India, outside of the state, and abroad. The stamps became obsolete on July 1st, 1951.
Click here to see all stamps from Travancore in this exhibition.
History
Located in southwest India, costal, and near its erstwhile rival, Cochin, the kingdom and princely state of Travancore existed from 1729 till 1949.  Prosperous, progressive, and forward looking, Travancore implemented many innovations, but was also subject to the political violence of the times.
The history of the kingdom dates back to at least to the 700s. Marthanda Varma (reigned 1729-1758) inherited lands and extended them into Travancore. This led to war with the Dutch East India Company. A captured Dutch admiral, Eustachius De Lannoy, defected to Tracancore and helped to modernize its army. In 1756, Travancore defeated the Dutch East India Company, who were aligned with Cochin. As a result, Travancore became the most important state in the area, dominating the black pepper trade. This contributed to the decline of the Dutch hegemony.
Successor Karthika Thirunal Rama Varma (1758–1798), known as Dharma Raja continued victories in battle and social reforms. His reign is often called a "golden age."
Subject to the power struggles in the area, Travancore often allied with the British East India Company. The British helped ensure victory against the invading Mysores and, in 1795, a treaty was signed, putting Travancore under the protection of the East India Company. With a weak prince on the throne, a series of Dewans (prime ministers) assumed power. These events ended with Travancore declaring war on the British East India Company – and being roundly defeated. Travancore was now subject to Company rule, and the Travancore army was disbanded.
The rigorous enforcement of the Hindu caste system in Travancore led to social abuses, and then, often, reforms. For example, customarily, the prince gave large gifts of gold to Brahmins, leading to problems in the state finances.  This ceased only upon threats and orders from the British. Similarly, protests against the caste system led to political unrest – from both sides.
Chithira Thirunal Balarama Varma (reigning from 1924-31 in minority, then 1931 till independence) made many important reforms. In his Temple Entry Proclamation (1936) Dalits ("untouchables") were assured temple entrance, provoking praise, but also backlash. In fact, neighboring Cochin responded simply by refusing temple entrance to all those from Travancore.  Progress was also made in making the state more democratic, in limiting the power of landlords, in preventing abusive practices involving widows and child brides, in founding educational institutions, in granting women the vote, and in promoting industry. Traditional music and art were championed.
Predictably, the approach of independence brought problems.  These were exacerbated by an unpopular Prime Minister, Ramaswami Iyer.  Tensions with communists let to riots, with (an estimated) more than 1,000 people killed. The prime minister left the country after an attack on his life.
Initially, Travancore wished to remain an independent principality, rather than accede to India.  However, after much discussion, it joined India.  In 1949, Travancore merged with nearby Cochin to form the Travancore-Kochi state, which then became Kerala.
Travancore


1888