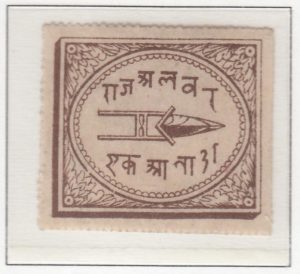 Population 682,926 (1895)
Alwar (also known as Ulwar during the British period) was a princely state in the Rajputana (now Rajasthan State) in the northwest of India.  Maharajah Mangal Singh Prabhakar, who ruled from 1874-1892, issued the first stamps in 1877.
The stamps were lithographed in sheets of 70 (ten rows of 7) on gummed wove paper, rouletted, with sheet watermark "A.C.&F." in large script and "SUPERFINE" in large double – capitals.  There are at least four distinct printings of both denominations.  They became obsolete in 1902.
Click here to see all stamps from Alwar in this exhibition.
History
Alwar, town and surrounding state, has a long and storied history. A king of Amer, ruling in the 1000s, founded the city of Alpur, which probably evolved into Alwar.
From 1372-1527, Alwar was the capital of the Muslim Mewat kingdom. In 1527, the ninth ruler of Mewat was defeated by the Mughals and became a vassal of the expanding Mughal Empire. In time, the Mughal empire weakened, creating an opportunity for adventurers.
Pratap Singh (ruled 1775-91), turning rebel to the Mughal army he had served, declared himself head of the new State of Alwar in 1775.  The state consisted of parts of Jaipur and Bharatpur, whose rulers understandably never recognized Alwar's independence.
Bakhatawar Singh (ruled 1791-1815), Pratap's adopted son, managed to have Alwar recognized by a newly arrived power in the area: the British East India Company. Singh helped British Lord Lake defeat the Indian ruler of Gwalior. In 1803, Alwar became the first Indian state to sign a formal treaty with the British. Ever ambitious, Bakhatawar invaded neighboring Jaipur, but was defeated.  The British then prohibited him from independent communication with other Indian states.
In an interesting glimpse into the times, the concubine Chhatri performed sati on Bakhatawar's funeral pyre. This sacrifice resulted in her posthumous promotion to a queen, or wife. The stunning cenotaph (memorial) built by his son, remains a famous tourist destination.
Son Vinay Singh (ruled1815-57) built palaces, museums, temples, ponds for water supplies, gardens, and the first high school in the state.  Ever loyal to the British, he aided them in suppressing the Indian Mutiny of 1857.
Shivdan Singh (ruled 1857-74) inherited the throne as a minor, under the rule of the British Political Agent.  After he achieved majority, the British claimed that his extravagance made him unfit to hold power.  He died at 29.
Mangal Singh (ruled 1874-92 and issued the first stamps) also inherited during his minority. Mangal further modernized the city and built an opulent residence, modeled upon a Scottish castle, atop a hill. He was the first student in India's Mayo College, the "boarding school for princes," arriving in 1875 on an elephant with 300 retainers, as well as tigers and camels.
Unfortunately, Mangal fought with the Dewan (prime minister), the British imposed upon him. After the Dewan was assassinated, telegrams to Mangal implicated him in the murder plot.  That night, Mangal mixed poison with alcohol and was found dead at the age of 34.
Jey Singh's (reigned 1892-1933) many talents included scholarship, writing, and speaking, as well as polo and hunting. A British Secretary of State for India declared him "the most brilliant Indian he met." He constructed palaces, a hospital, and irrigation structures that wiped out famine, but his passion for building palaces bankrupted the treasury. He demolished the Scottish castle built by his father, planning to replace it by an even grander one. The new castle never materialized; the ruins of the Scottish castle can still be viewed. The taxes Jey imposed resulted in rural uprisings. In 1933, the British forced Jey into exile; he died in 1937.
Jey died without a male heir, and the British ruled for several years, finally appointing Tej Singh (1937-1947), whose family had been exiled by Jey.  With no formal education or preparation, the British deemed him unfit to rule, and continued to control policy and purse strings.  Finally, he gained power in 1944.
The approach of Indian independence resulted in general turbulence. Tej, for a time, positioned himself against independence, then changed his position, achieving some calm in the area. However, violence between Muslims and Hindus reemerged, with Tej informally accused of complicity in Gandhi's assassination. Ultimately, Tej signed a merger of Alwar with three other princely states (the Matsya union) and this was incorporated into the modern state of India in 1949.
During a state of emergency in India, in 1975, declared by Indira Gandhi's government, the palace was attacked, and treasures stolen.  Tej's young son died, either from the hand of a government official, or through suicide. After his princely status was abolished in the 1970s, Tej lived in obscurity, dying at the age of 98.
Alwar 1877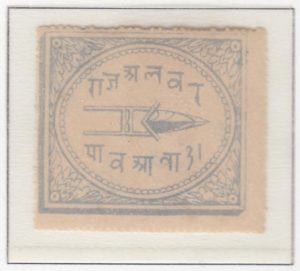 1/4 Anna Steel Blue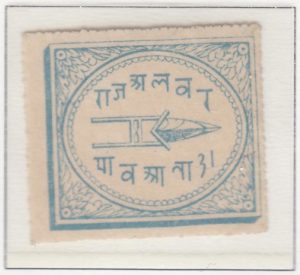 1/4 Anna Bright Greenish Blue
1/4 Anna Gray Blue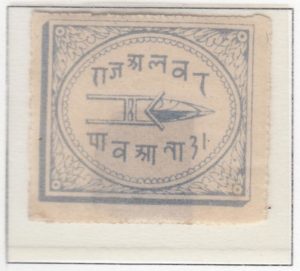 1/4 Anna Ultramarine
1 Anna Pale Yellowish Brown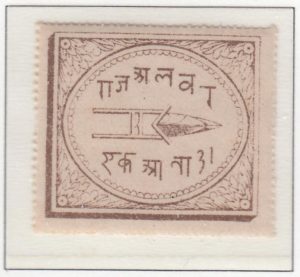 1 Anna Brown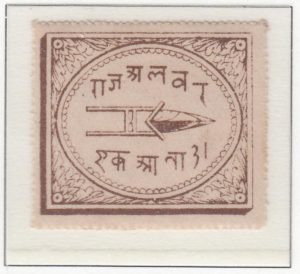 1 Anna Brown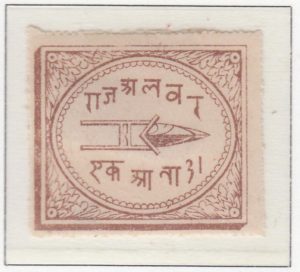 1 Anna Pale Reddish Brown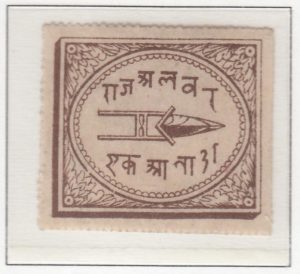 1 Anna Chocolate