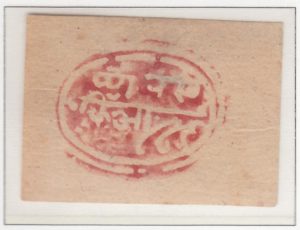 Population: 137,268 (1901)
Bhor was a princely state in the Kolhapur Residency and Decca States Agency (presently part of Bombay State). Raja Pandit Shankar Rao (ruling from 1871-1922) issued the first stamps in 1879.
The stamps were hand stamped on native paper that varied between very thick and thin.  They were issued imperforate, without gum.
Click here to see all stamps from Bhor in this exhibition.
History
Situated near the headquarters of the Maratha empire, (and near Bombay), it is not surprising that the state of Bohr has a history that intertwines with the Maratha.  Bhor has its origin is in a feudatory state granted, in 1697 to Shankarji Narayan, who served as one of the eight hereditary Maratha ministers.
When Maratha rule ended in 1818, Bohr became a princely state, subject to the British East India Company.  At first, an 1820 treaty placed it within the Satara state; in 1849 Bhor came under direct British rule.
A male line, using primogeniture, was maintained until modern times, although there were several adoptions allowed under the British sanad.  At times, this resulted in some drama.  In the early 1800s, the five-year-old Chimnaji Shankar was granted the throne by the previous leader on his deathbed.  British reports state that, in Chimnaji's minority, funds were misappropriated by ministers and his adopted stepmother.  When he turned 20, Chimnaji forcefully took control of the government, imprisoning his stepmother. The British intervened to free her and grant her a pension.
The small state paid an annual tribute, the equivalent of one elephant, to the British government.
Bhor's rulers were Hindu Deshastha Brahmins, a subcaste mainly from the state of Maharashtra. The state was largely agricultural and extended about 500 square miles. Like most states, it was involved in opium production, and some consumption. It suffered famines – with some government relief – and plagues.  It had seven state post offices and, of course, was authorized to issue stamps.  The ruler (later named the Raja) had jurisdiction in all civil and criminal cases, except for cases leading to capital punishment, which needed to be sanctioned by the British agent.
The Raja of Bhor uneventfully ceded to the State of India, in 1948.
Although the princely state is gone, Bhor is still a city, and in 2011 had a population of about 18,500, with a higher than average literacy rate.  The inhabitants are majority Hindu.  The monsoon is said to transform Bhor and its surroundings into a "heavenly green carpet."
Bhor


1879