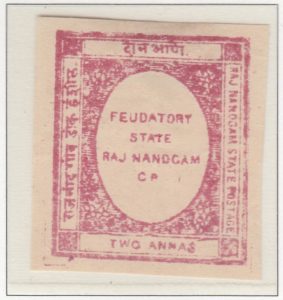 Population: 126,356 (in 1901)
Nandgaon was a Princely State in the Chhattisgarh States Agency in Central India (presently part of Chhattisgarh State). The first issue originated in 1891 during the reign of Mahant Balram Das, who ruled over the state from 1883-1897.
The first issue consisted of two stamps; a 1/2a and a 2a that were issued on white paper. They were lithographed, imperforate and without gum. They became obsolete on July 1, 1894.
Click here to see all stamps from Nandgaon in this exhibition.
History
According to Hindu texts, Nandgaon was the birthplace of Lord Krishna, where his parents moved to protect him from demons.  The village chieftain built Lord Krishna's house atop a hill, for added safety.  It is fitting that the area is credited with a distinguished religious pedigree, for the modern state was founded by an unlikely religious sect.
In the 18th century, Prahlad Das, a money-lending merchant, traveled to the area. Like other members of the Bairagi (Sanskrit for "freedom from passions") sect, he was a strict celibate.  Thus, disciples, or Chela, were chosen to inherit property and lands.  The sect amassed wealth and power, as the local Maratha ruler chose Hari Das, successor of Prahlad, as his spiritual advisor.  Gradually, the Bairagi sect acquired four administrative units, some through possession for debts, which had formerly belonged to the Raja of Nagpur.
In 1865, these four territories were merged into the princely state of Nandgaon by the British.  However, the seventh ruler, Ghasi Das, married and had a son, who was recognized by the British as a hereditary ruler. Rulership of this state progressive and responsible, and it profited from railway construction.
The last ruler signed an accession to India on January 1,1948.
Nandgaon

1891