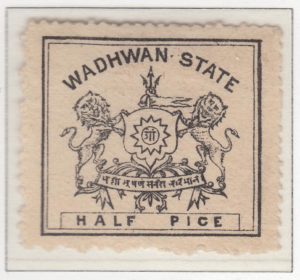 Population: 16,223 (in 1901)
Wadhwan (or Vadhwan) was a princely state in the Kathiawar Agency. It is presently part of the State of Gujarat. The first stamps were issued in 1888-1894, during the reign of Thakur Balsinhji Chandrasinhji, who ruled from 1885-1910.
The stamps were issued on woven paper and were gummed. They were lithographed from seven stones. The paper varied between thin and thick and the perforations were with large holes, irregular small holes, pin perforated and compound perf. Between 11 and 12 ½. They became obsolete on January 1st, 1895.
Click here to see all stamps from Wadhwan in this exhibition.
History
Founded around 1630, Wadhwan is located in Gujarat and was ruled by Rajputs of the Jhala dynasty, who bore the title "Thakur Sahib."  It is said that the ruling Jhala clan bears the name of "catch," as young princes, being chased by angry elephants, were pulled through an open window and caught by their mother. The state was relatively well administered, and important fortifications were built to protect the populace.
Upon the death of a prince, in 1807, Wadhwan, like many neighboring states, became a British protectorate. However, the state retained full civil and criminal jurisdiction.  Wadhwan joined India uneventfully in 1948.
Wadhwan
1888