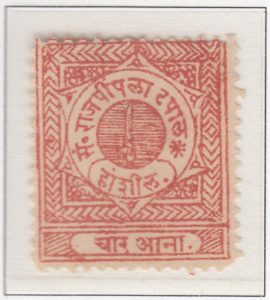 Population: 117,175 (in 1901)
Rajpipla was a Princely State in the Rowa Kawtha Agency (presently part of Gujarat State). The first issue came out in 1880 during the reign of Maharana Shri Gambhirsinhji II Verisalji, who ruled from 1860 to 1897. The first (and only issue) consisted of three stamps: A 1p; a 2a; and a 4a. They were lithographed with or without gum (1p); or no gum (others). The 1p was perforate 11 and the others were 12 ½. The stamps became obsolete in 1886.
Click here to see all stamps from Rajpipla in this exhibition.
History
Rajpipla, a prosperous state located between two rivers of western India, comprises about 1500 square miles. It was ruled by Gohil Rajputs and known for its diamond mines. The Gohils have held sway since the 1300s, although, with the vicissitudes of the subcontinent, they have been subject to the Mughals and then the Marathas. The state of Baroda was demanding crushing tributes when the British intervened to assure the throne to Gohil Maharaja Verisalji. Several treaties with the British ensued, the first signed in 1816.
Not surprisingly, the British felt betrayed when the Maharaja rebelled in the Indian Mutiny of 1857.  After it was quelled, he was removed from power, and son Maharana Gambhirsinhji was placed on the throne in 1860; several British administrators held power from 1884-97, when he died.
From 1897 to 1915, reigning Maharaja Chhatrasinhji Gambhirsinhji made important reforms, including the building of a railway and massive famine relief.  Following in his father's footsteps, the next ruler, Maharaja Vijaysinhji Chhatrasinhji showed impressive vigor modernizing the state in his reign from 1915-1947. His innovations included schools, electrification, hospitals, a functioning court system, pensions for employees, improvements of agricultural products, and town planning. It should be also noted that, in Rajpipla, is the first mosque in the world where women could worship.
An avid horseman and owner, he was the first-ever to win all three of the Indian Derby, the Irish Derby, and the coveted Epsom Derby of England.  He was a supporter of Indian independence in the 1940s, and, after joining India, handed over the contents of the state treasury to the Indian state.
Rajpipla has recently made news when the current maharajah declared himself to be gay, using the public forum of the Oprah Winfrey show.  He currently lives in a pink palace – one of Rajpipla's 11 – which also serves as a location for Bollywood cinema shoots.
Rajpipla


1880