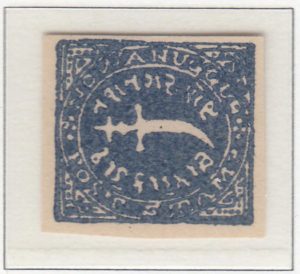 Population 336,779 (in 1901)
Nawanagar (also spelled Nowanuggur) was a Princely State in the Kathiawar Agency within the Gujarat Division of the Bombay Presidency.  It is presently part of Gujarat State. The first issue was in 1877, during the reign of Jam Vibhaji II Ranmalji, who ruled from 1852 to1895.
The first issue consisted of a 1 doc (Docra) stamp, typographed on laid paper. The stamp was printed without gum on a variety of blue shades. The issue was imperforate, line perforate 12½, and line perforated 11 narrow. The stamps became obsolete January 1st, 1895.
Click here to see all stamps from Nawanagar in this exhibition.
History
Located on the south of the Gulf of Kutch, near the Arabian Sea, the state was founded in about 1540, by a Rajput who was reputedly an heir of Lord Krishna.  Ruled by several empires, including the Mughal, it came under British influence in 1812. It was famous for its pearl fisheries, and later housed some of the largest oil refineries in India.
K.S. Ranjitsinhji, ruler from 1907-1933, was among the world's greatest cricket players.   Adopted as heir as a child, he was sent to Mayo College (which educated up to age eighteen), the so-called "College for Princes," where English coaches developed his passion for the game.  Later, he became one of the few Indians to attend Cambridge; his unorthodox playing seems to have accounted for his not making the team.  However, he went on to a stunning career in cricket, making him a celebrity whose image appeared on match boxes and cards. In the popular British mind, cricket embodied the virtues of gentlemanly behavior, as well as physical fitness. "Ranji's" perfect image did much to counteract the stereotype of the effete Indian prince. In 1906, he inherited the "Jam," or throne.  His reign was relatively enlightened, seeking to modernize the state with expanded irrigation and the establishment of a port.  He was also active in the council of princes, which sought to transfer power to Indian states.
Nawanagar was among the first princely states to join India, and its last ruler served the Indian government at home and abroad.
Nawanagar


1877