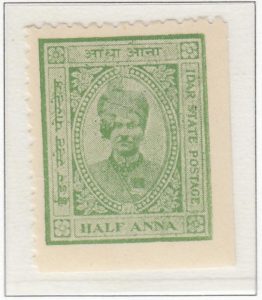 Population: 168,557 (in 1901)
Idar was a Princely state in the Western India States Agency (presently in Gujarat state). The state's first postal stamps were issued from 1932 to 1943 under the reign of Maharaja Himmat Singhji who ruled between 1931 to 1960.
The first stamps were in various shades of green with white or colored panels. They were issued in booklet panes of four with the stamps imperforated on one or two sides; they were gummed.
Click here to see all stamps from Idar in this exhibition.
History
Idar was founded in the 1200s by Rajput Raos.  In 1729, the territory was conquered by two sons of the Maharaja of Jodhpur.  It was divided into five parts and then gradually reunited. However, it came under the protection of European powers when, in 1837, a widowed Maharani with a young son sought and received the protection of the British, making Idar a British protectorate.
An 1890 survey of the Raj time cites Idar as being poor in natural resources and manufacturing. Trade had come from the manufacture of opium, which, at the time of writing, was being monopolized by the state.
A series of early deaths brought the distinguished Pratap Singh to the throne.  Originally from Jodhpur, he served four rulers in that state, in addition to being named Maharajah of Idar, and serving in this second state from 1901-11.  Pratap Singh was seen as the British ideal of an Indian prince: soldierly, efficient, and a model of orderly administration.  He was a favorite of the British Royalty, including George V.  Indeed, at the age of 70, he volunteered for service in World War I, commanding troops in the Mideast and France. However, despite several marriages and heirs from lesser wives, he left no legitimate heirs.
In 1911, he resigned the Idar rulership in favor of his nephew Daulat Singhji and returned to Jodpur.  Daulat Singhji proved to be a competent ruler, who was also a soldier.  He was succeeded by his son, who also ruled well, ceding the state to India in 1947.
The present heir to the title is politically active and continues the family interest in horse racing.
Idar