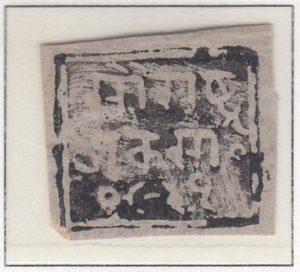 Soruth (also known variously as Junagadh and Saurashtra) was a Princely State near Bombay in the Western India States Agency. After unification, it joined the United States of Saurashtra, and at present it is part of the State of Gujarat. The first issue consisting of four 1a black stamps on various colored paper, both laid and wove, was issued in 1864 during the reign of Nawab Mohammad Mahabat Khanji II, who ruled from 1851 to 1882. The stamps were hand-stamped in watercolor, imperforate and without gum.
After the state joined the United States of Saurashtra, several overprinted stamps were issued. Initially two of Soruth's 1929 issues were surcharged one anna and were usable for both postage and revenue.
On March 30th, 1950 the postal service of the state was incorporated into that of India.
History
The history of this region, and even the names, are a microcosm of the patchwork nature – in both time and space – of the subcontinent. Saurashtra has, at various times, also been used to refer to a peninsula between the Gulf of Kutch and the Gulf of Khambhat, which borders on the Arabian sea. This area is also called the Kathiawar peninsula. At other times, the name Saurashtra refers to the state.
Soruth and Junagadh, and, at times, Saurashtra, refer to refer to a large state, which throughout its history as an Indian princely state, had other states attached to it. Henceforth, we will use Junagadh to refer to the state.
The history of Junagadh is long, with earliest forts dating back to the 300s BCE. Very early Sanskrit inscriptions from the 400s CE. have been found. The Chudasama dynasty, after a long reign, was defeated by the Muslims in 1472, and Muslim Gujarat rulers annexed the state. The government was moved from Junagadh to the island Diu to protect the naval station there and to check on the Portuguese, who were then in the area. Rulership passed to the Ghori family, who reigned independently, while nominally under Sultans at Ahmadabad.  The area was then conquered by Akbar, of the Mughal Empire.
Muhammad Sher Khan Babi founded the Babi dynasty in 1654, with a Mughal overlord.  When the Mughal weakened, he declared sovereignty, but then was in vassal status to the Maratha Empire.
In 1807, Junagadh State became a British protectorate.  The state, as well as others in the area, were administered under the Kathiawar Agency.
In 1947, upon independence, the Muslim Babi ruler decided to merge Junagadh into Pakistan, despite the fact that there was no land connection and that the majority of the population was Hindu. Hindus revolted, leading to violence and, finally, a plebiscite.  Junagadh merged into India – and the last ruler fled to Pakistan with his family.
Junagadh was merged with several other princely states, as the Kathiawar State. However, different states joined at different times and the area can continue to best be described as a patchwork of changing feudal and political allegiances.
Soruth – Junagadh

1864