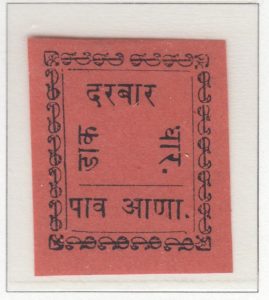 Population 142,115 (in 1901)
Dhar was a Princely state in the Central Indian Agency in central India (presently part of the Malwa region of western Madhya Pradesh). Maharaja Anand Rao III Puar ruled from 1857-58 and 1860-98. The state was confiscated for rebellion from 1858 – 1860, but in 1860 it was restored, and the Maharaja was reinstated. During his reign the first stamps were issued in 1897.
The stamps were type set on various oval papers and oval hand stamped in block. They were issued without gum and were imperforated. The stamps became obsolete in March 31, 1901.
Click here to see all stamps from Dhar in this exhibition.
History
The state of Dhar dates from about 1730, when Udaji Rao Puar, a distinguished Maratha soldier, was granted territory in return for valiant services.  During the next century, the extent of the territory was decreased by raids.  However, in 1819, the state signed an agreement to become a protectorate of the British East India Company, and its former territory was restored.
Unfortunately, the state was involved in the Indian Mutiny of 1857.  At that point, a thirteen- year-old-Raja had inherited the throne, and the British felt that his mother and brother had instigated attacks on two British stations and a fort.  The British laid siege to Dhar and destroyed much of it.  The state was then confiscated, but was restored in 1864, again with reduced lands.  The title of Maharaja was granted in 1877.  The state joined India in 1948.
The territories of Dhar contained many tribal peoples. A Department of Thakurans, Bhumian, and Thikanejat was established in 1921, defining the rights of these people to internal self-rule.
Dhar

1897