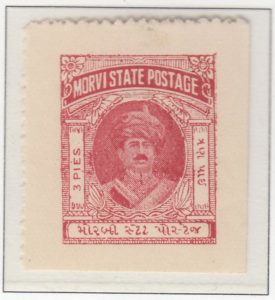 Population: 87,496 (in 1901)
Morvi (also spelled as Morvee State or Morbi) was a Princely State in the Kathiawar Agency in Western India. The state merged into the State of Kathiawar, then the United State of Saurashtra, which later merged into Bombay state. That later split, and Morvi is now part of the State of Gujarat.
The first postal issue originated in 1931 during the reign of Thakur Sahib Maharaja Lakhdirji Waghji, who ruled the state from 1922-1947.
It consisted of three stamps; 3p, ½a and 2a. They were type set, on white wove paper, with gum and perforate 12. The third stamp is perforated on two or three sides.
Click here to see all stamps from Morvi in this exhibition.
History
A Rajput state, Morvi was founded when, after his father's murder by his uncle in 1698, the heir of Cutch fled.  He occupied the territory of Morvi and installed himself as ruler. In 1734, the next heir was displaced by a rebellious younger brother, after this usurper had encouraged allies to populate the area. A sixty-year period of warfare and rebellion ensued, finally stabilizing when the British assumed protection; a treaty formalizing this was signed in the late 1820s.
With peace established, Thakur Ravaji II, (reigning from 1846-70) organized the state and increased revenues. He banned money lenders in favor of state-sponsored loans. Similarly, Maharaja Waghji, (reigning from 1870-1922) educated at the westernized Indian princes' college and inheriting as a minor, ruled for over 50 years. He built communications, public transportation, bridges, and schools, as well as improving ports. The establishment of a free port made Morvi extremely prosperous.
The next ruler, his son made improvements, including constructing public buildings and palaces.  However, this rule was autocratic, outlawing newspapers and any hint of government reform. Under his aegis, Morvi acceded to India, and he resigned soon afterwards.
In 1979, A catastrophic and tragic flood, caused by the failure of a dam inflicted thousands of casualties in Morvi. However, it also led to the uncovering of some history. An examination of documents after the flood gave insights into the lavish lifestyle of the princes.  Fond of costly jewels, Indian princes often called upon European merchants to reset them in the latest styles. Nor were English officials immune to the charms of these riches; the wife of the then Viceroy, Lady Willington, also coveted jewels, and took to touring the zenana (harem, or quarters for women) and admiring the occupants' jewels.  Often, they were, obviously under pressure, "gifted" to her. Soon, females of the zenana wore only their second-class jewels when Lady Willington visited.
In 1931, the ruler of Morvi commissioned a stunning Art Deco palace.  According to one source
He spared no expense: green marble staircases and fountains everywhere, running under colonnades or spouting from giant sea shells to spill into a vast, Olympic-sized swimming pool.*
However, this Maharajah failed to conform to the age-old custom of giving land to his bard.  The furious bard put a curse on the family, stating that disaster would be visited upon Morvi after the death of its last male heir.  In 1979, the last heir of Morvi died childless, from a drug overdose; within months thousands of people were killed in a dam-related flood discussed above.
*Tim McGirk and Ruth Winn, Travel: The princely pleasure domes: India's rulers indulged their fantasies and lavished their fortunes on their palaces. Tim McGirk enjoys the panoply of royal taste from watery Udaipur to lush Mysore.  The Independent, October 15, 1994.
Morvi


1931