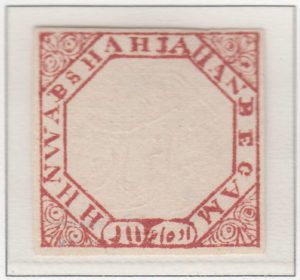 Population 665,961 (in 1901)
Bhopal was a princely state of central India in the Bhopal Agency. It became part of the Bhopal state of India from 1947-56, then was integrated into the Indian state of Madhya Pradesh. Nawab Shah Jahan Began, who ruled from 1868-1901, issued the first stamps in 1872.
The stamps were lithographed in sheets of 20. They were issued imperforate, without gum. An embossed octagon in Urdu constitutes the central part of the design.  They became obsolete in 1950.
Click here to see all stamps from Bhopal in this exhibition.
History
The story of Bhopal has several unusual elements, including a powerful matriarchy, an industrial disaster, and a Bollywood star.
The state was founded in 1707, when Dost Mohammad Khan, a general in the Mughal army, broke away from the declining empire and declared Bhopal an independent kingdom.  In the 1720s and 30s, Bhopal was under the sway of the Nizam of Hyderabad and then the Maratha empire. But when Bhopal sided with the British Army in the third Anglo-Maratha war, almost a century later, it became a British Princely state in 1818.  Dost Mohammad Khan, and his line, were Muslims, and Bhopal was one of the largest Princely States with Muslim leadership. The population was almost three-quarters Hindu in 1908, but religious freedom and diversity was prized.
Dost Mohammad Khan's son ruled for some years but died leaving two young and unambitious sons. Subsequently, their stepmother, Mamola Bai, a Muslim convert, ruled, despite living in purdah, while the sons became recluses.  Her reign lasted from 1754 until 1794. Both sons having meanwhile died, disputes arose over succession, and some cousins, who had rebelled, were exiled.
In time, the rebel cousins were allowed to return, and, in fact, valiantly defended Bhopal, becoming popular heroes. A marriage between the ruling family, and the formerly outlawed cousins was arranged.  But when the new husband, (whose family had formerly been exiled) overreached by signing a treaty with Britain in 1818, he was assassinated.
Unexpectedly, his 18-year-old widow Qudsia claimed the throne for her infant daughter, Sikandar. Qudsia then proceeded to rule, disregarding any possible claims from her brothers. Raised in purdah, and illiterate, she "threw off the veil" and led armies. Her rule proved productive and popular. Qudsia constructed railways, a public water system, mosques, and housing for pilgrims. She was known for her humanitarianism and economy, weaving cloth to support the royal household.
Meanwhile, however, the male members of her family applied to the British, who intervened in their behalf, and ordering, that Sikandar (Qudsia's daughter) be married forthwith to her cousin.  The pair did not get along, and he even tried to kill her when she was pregnant. According to reports, the athletic and fit Sikandar terrorized her husband, capturing, and then releasing him.
When he died at the age of 26, he was succeeded by his six-year-old daughter, Shahjahan. Power was to be transferred to her husband, when she married.  Sikandar and her uncle became regents, but the latter proved incompetent, and Sikandar ruled alone.  Educated for rulership, and stern and organized by nature, she instituted many organizational and administrative reforms.
In 1855, after much urging by the royal women, the British permitted the princely state to be directly ruled by women, rather than requiring rule through husbands. In 1857, Sikandar, who was experienced in battles and uprisings, forcefully repressed rebellion against the British.  Sikandar ruled for sixteen years, eight in her own right.
When Shahjahan achieved majority, her mother, Sikandar, resigned in her favor.  A more delicate and fragile person, the arts and luxury flourished in her reign.  However, an unsuccessful second marriage to a lowly courtier resulted in betrayal and humiliation, and alienated her from her powerful predecessors, reducing her to a figurehead.
When she died in 1901, she was succeeded by, again, her daughter, Sultan Jahan, who returned from exile, courtesy of her step-father.  Although she adopted the burqa, she also reformed administration, laws, and finances. She dedicated herself to women's education and rights, publishing several books.  In 1926, she bequeathed a well-run state to her son.  Thus, over 100 years of queenship came to an end.
At independence the Nawab of Bhopal wished to retain his independence from India, but was forced, in 1949, to join the country.  The Muslim daughter of the last Nawab chose to move to Pakistan, giving up the rights to any heirship in Bhopal.
Bhopal continues to command the attention of the wider world. The tragic Union Carbide poisoning from a gas leak in 1984 exposed a half-million people to grave danger, killing several thousand.
The fame of the former ruling family continues. The current head of the family is the famous Bollywood star, Saif Ali Khan.
Bhopal

1872