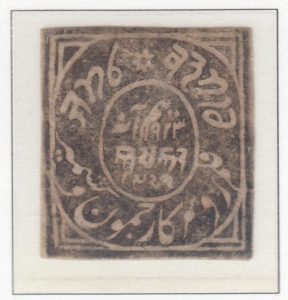 Population: 2,678,701 (in 1901)
The combined state of Jammu and Kashmir was a princely state in the Kashmir Residency in the north of India. The first issues were introduced between 1866 and 1879, during the reign of Maharaja Ranbir Singh who ruled over the state between 1857 – 1885.
For purposes of this collection, the first issues are divided into four parts:
The first, issued in 1866, was for use in both Jammu and Kashmir; it was hand stamped on native paper (having the appearance of laid paper), either grey or brown, imperforate and without gum.
The second, issued in 1867, for use in Jammu, was printed in blocks of four on native paper, in watercolor and imperforate.
The third, issued in 1866 – 1877, for use in Kashmir, was printed on native paper, in watercolor and imperforate.
The fourth, issued in 1878 – 1879, once again for use in both Jammu and Kashmir, were laid or wove paper in oil colors. They were both rough perforate 10-14 and imperforate.
Click here to see all stamps from Jammu and Kashmir in this exhibition.
History
Located in proximity to China, Tibet, and Pakistan, and possessing great natural beauty, the Princely State of Kashmir, later combined with Jammu and other provinces, has a long history.  Starting before the Common Era, it has variously been under the influences of the Chinese, Tibetans, Hindus from the subcontinent, and Muslims.  This resulted in a melting pot that often functioned, as it does today, more like a crucible.
Unfortunately, its history continues to be punctuated with ongoing violence. In fact, two of the three wars fought between India and Pakistan since 1947 were over Kashmir. Currently, different parts of Jammu-Kashmir are administered by India, Pakistan, and China.  The Indian part of Jammu-Kashmir is the only Indian state containing a Muslim majority.
The mountain ranges and lakes of Kashmir are among its stunning natural features.  The province has become a popular destination for skiing and other sports, as well as a Bollywood backdrop.  Kashmir is known worldwide for its beautiful cashmere wool material. It is also known for the religion of Shaivism, a practice of private purification of the body, involving controlled breathing and deprivation of food and water in the service of uniting with the divine powers of consciousness. Founded before 900 CE, this practice has been newly revitalized; Lalleshwari, 1320 – 1392, was a female poet whose Sufi mysticism helped define this practice.
Kashmir came under the control of Muslims between 1339 and 1751, with the Mughal empire ruling from 1586-1751.  From approximately 1753-1819, the Durrani empire of Afghanistan held sway, and these Muslims were seen as oppressive, even forcing local Hindus into slavery. The Sikhs (1820-1846) then came into power, as the Rajput Dogra ruler of Jammu was granted Kashmir by Sikh rulers. The provinces of Ladakh, and Balistan were next added to the territory. Like the Muslims, the Sikh rulers were viewed as being anti-Muslim and imposing confiscatory taxes which, however, were mitigated after a famine.
In 1846, when the first Anglo-Sikh war broke out, the Dogra ruler of Jammu-Kashmir remained studiedly neutral, in fact providing some advice to the British.  During the Indian mutiny of 1857, the ruler sided with the British, providing sanctuary to British subjects.  The princely state of Jammu – Kashmir was formed as a British protectorate.  However, the rulers of the princely state were forced to, in effect, ransom their territories by paying vast sums to the British.
Although punctuated with a major famine, and, accused of limiting the rights of its Muslim majority, the Princely State of Jammu– Kashmir was uneventfully ruled by its Dogra leaders.  However, the advent of Indian – Pakistani independence brought troubles to Kashmir.  Rebellions followed, with the Maharajah actually firing on citizens who were advocating joining Pakistan.  The Maharajah signed a "standstill" agreement with Pakistan and was negotiating one with India when riots prompted him to sign an accession agreement with India.  Indian troops occupied Jammu-Kashmir, and violence, continues to this day. At present, three countries occupy different portions of the erstwhile princely state: India, Pakistan, and China. Even appeals to the United Nations have not settled the disputes of these beautiful, diverse, but troubled territories.           
Jammu and Kashmir


1866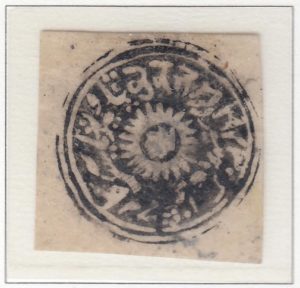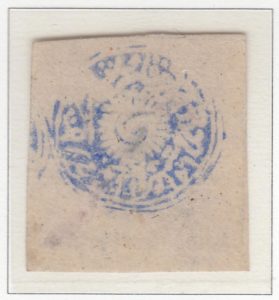 Jammu and Kashmir – 1867
For use in Jammu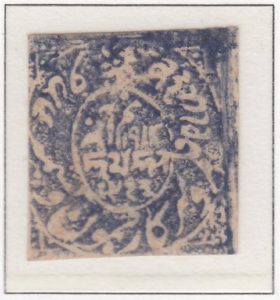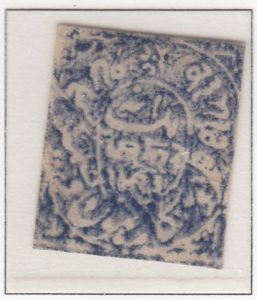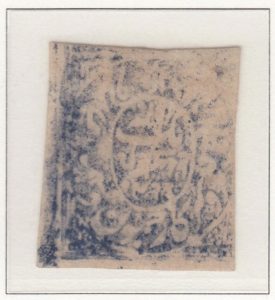 Jammu and Kashmir
1866-1867
For use in Kashmir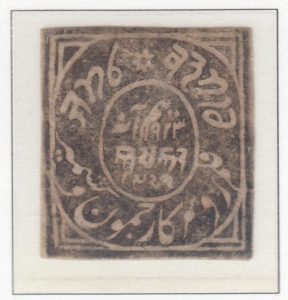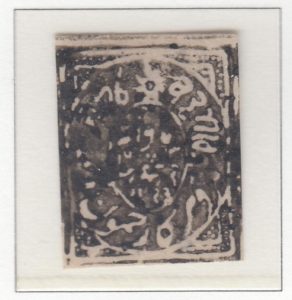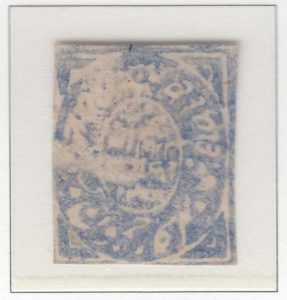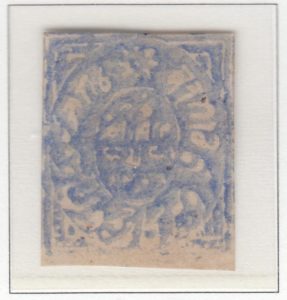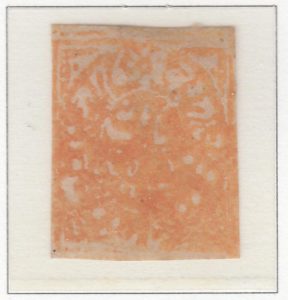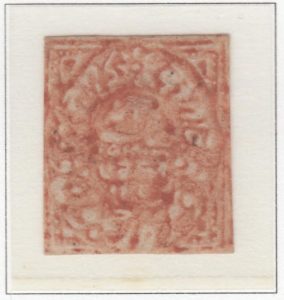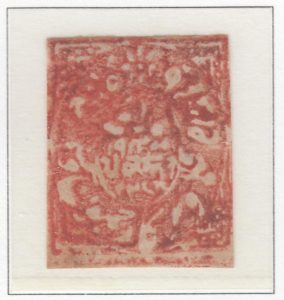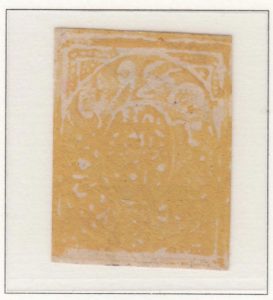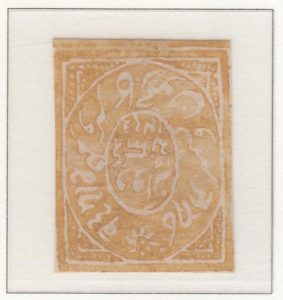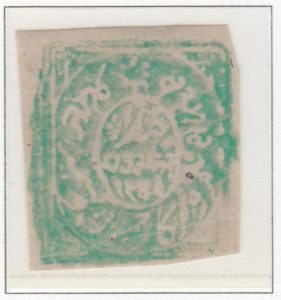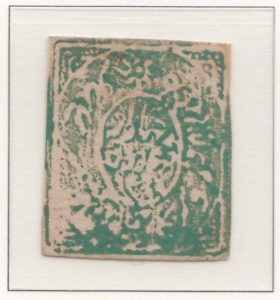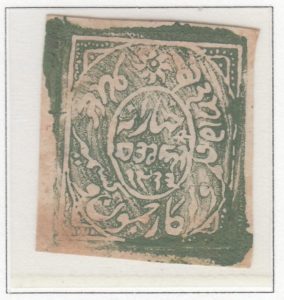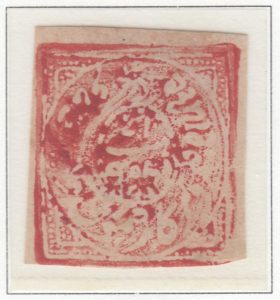 Jammu and Kashmir
1878-1879
For use in Jammu and Kashmir

On ordinary white laid paper – rough perforated 10 to 12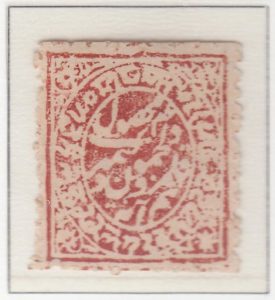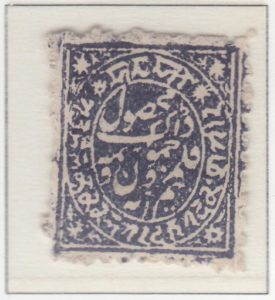 On ordinary white laid paper – imperforate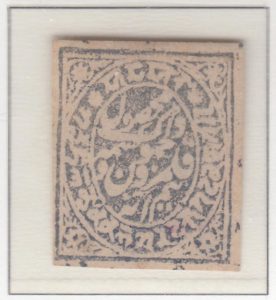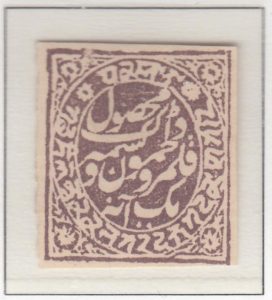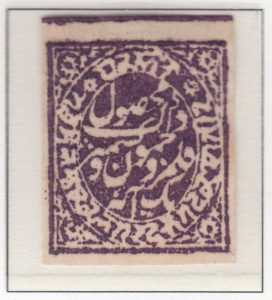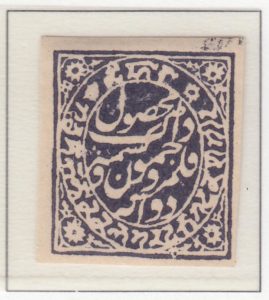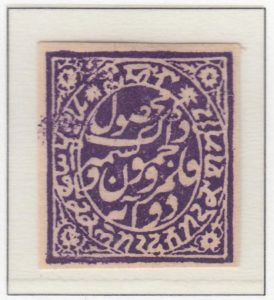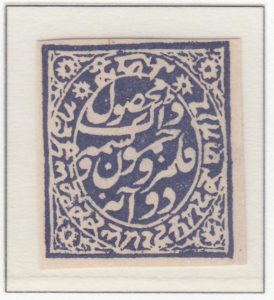 Jammu and Kashmir


1878-1879



For use in Jammu and Kashmir
On ordinary white laid paper – imperforate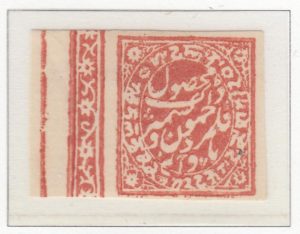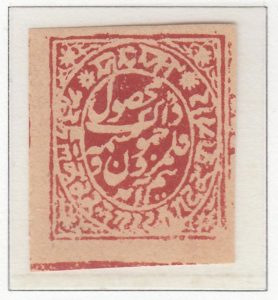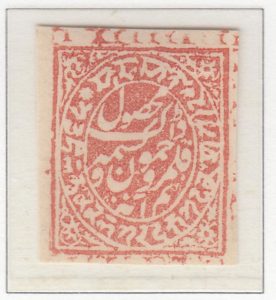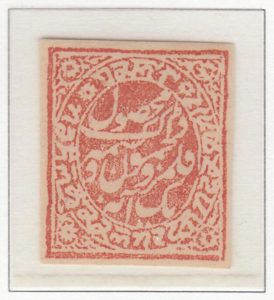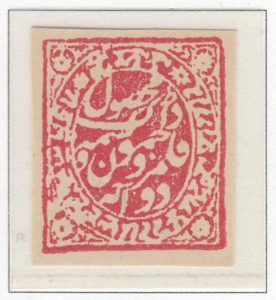 On ordinary medium wove paper – imperforate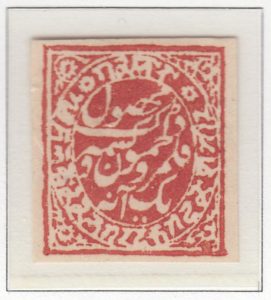 On thick wove paper – imperforate