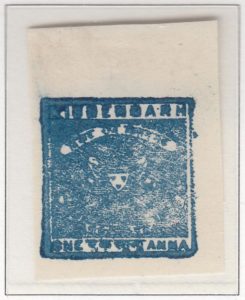 Population: 90,970 (in 1901)
Kishangarh was a Princely State in the Rajputana Agency (presently part of Rajasthan).
The first stamps were issued in 1899-1900 during the reign of Maharajadhiraja Maharaja Sadul Singh who ruled from 1879-1900.
The state continued to issue its later stamps after becoming part of India. These stamps are overprinted, and examples are shown later in this exhibit.
The first stamp, issued in 1899, was imperforated. It was issued without gum and typographed.  A year later the stamp was pin-perforated and a similarly designed stamp was issued imperforate in green rather than the original blue.
Click here to see all stamps from Kishangarh in this exhibition.
History
The princely state of Kishangarh was established in 1609, by a younger son of the reigning Rajputs of Jodphur and continued to be ruled by his line.  The city was founded in 1611.  In the early 1800s, many Rajasthan states, including Kishangarth, came under attack from the Maratha empire, spearheaded by the Pindaris, irregular horsemen who raided and pillaged.  The interests of states such as Kishangarh dovetailed with those of the British, and in 1818, Kishangarh signed a treaty placing it came under British protection.  The state paid no tribute.
Widespread drought and famine in the area in the 1980s caused much devastation and decreased the population.  Fortunately, Maharajah Madan Singh, who inherited the throne in 1900, at age 16, proved to be an able ruler.  His many projects included irrigation and the establishment of cotton processing plants.  Also notable were laws that limited expenditures on marriages, which, by custom, were so high that they bankrupted families.
In 1948, Kishangarh uneventfully joined the Indian union as part of nine states that constituted the Rajasthan union.
The school of Kishangarh painting is a noteworthy artistic development dating from the 1700s. The facial types are distinctive, and include pointed noses and chins, curved eyes, and "dreadlocks." Large landscapes are often shown in the background.  Raja Savant Singh, who reigned 1748-57 fell in love with a singer whose face may have been a prototype for these unusual paintings.  This ruler was also a member of a sect devoted to the incarnation of Krishna as divine love.
Kishangarh

1899