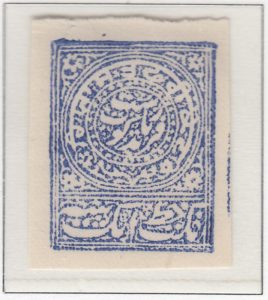 Population 97,034 (in 1892)
Faridkot was a princely state in the Punjab Agency (presently in the state of Punjab). The first stamps of the state were issued between 1879 and 1886, during the reign of Raja Bikram Singh, who ruled from 1874 – 1898.
The stamps were hand stamped on various papers; laid and wove, thick and thin, white and whitey brown. They were imperforate and without gum. The stamps became obsolete in 1886 and were supplanted by the issues of the state as a convention state.
Click here to see all stamps from Faridkot in this exhibition.
History
Faridkot was a Sikh princely state.  The region was ruled over by the Bat Sikh Brar dynasty, and rulers achieved prominence within the Mughal Empire. After disputes among family members, Hamir Singh became the first autonomous chief of Faridkot in 1763. A neighboring Sikh empire seized the territory in 1803, but the British forced return to the previous ruler in 1807, as they established hegemony over the area. In 1845, the prince supported the British against the Sikhs, and was rewarded with additional territory. Again, the rulers supported the British during the Indian Mutiny of 1857.
The state consisted of over fifty villages and two towns. The population of the city of Faridkot was originally located within a fort but expanded beyond the walls in 1873. The state of Faridkot was uneventfully planned, administered, and run. It acceded to India in 1947.
After the independence of India in 1947, rulers of Indian Princely States were deprived of their titles and power.  In a series of moves, many of their assets were seized.  The "privy purse" they were supposed to receive was abolished in 1971.  The socialist government of India actually raided their assets and threw some members in prison.
Yet, throughout this, Harinder Singh Brar, the former maharajah of tiny Faridkot, managed to hold on to a fortune worth, today, almost 3 billion dollars. Unfortunately, after his son's death in an auto accident, the former maharajah went into a deep depression and ended up being in the control of his courtiers.  His assets were put into a trust, with servants and advisors serving as trustees.  When he died, his family members – mother, wife, and daughters – were disinherited, or received only token amounts.  A twenty-year battle, which may not be over yet, has now resulted in a verdict that Harinder Singh Brar's will was forged.  His elderly daughters, who lived modest lives, were then set to inherit his vast fortune.  Unfortunately, one passed away before the verdict.  Living her last years in a tiny portion of one of the vast estates, and dependent upon a decidedly unprincess-like allowance, she died neglected and impoverished.  Although fond of reading, she was not allowed into the library of the estate. As of 2018, and after many court battles, the two surviving daughters of the maharajah will apparently inherit this property.
Faridkot


1879-1886